History of St Matthew Parish
In the beginning
The community of Saint Matthew Parish began with a group of Irish immigrants working in the Cooper Mine district of Burlington and Bristol.
These miners and their families approached Father Luke Daly of New Britain whose parish encompassed all the territory from Hartford to Waterbury including Bristol. He agreed to say Mass at "the mines," once every three months.
Traveling on horseback, this pioneer priest celebrated the first mass at the home of Mrs. Ellen Igoe, a widow.
When the mines closed, the workers shifted to Forestville, where the railroad was then being constructed.
When, in 1864, Saint Joseph Church in Bristol was established as a separate parish, Forestville became a mission of
Bristol, under the pastorate of Reverend Michael Roddan. Forestville Catholics walked to Bristol in summer or plodded through the snows of winter for Sunday Mass. On Holy Days of Obligation, Mass was celebrated at 5:00 A.M., which meant that Catholics from Forestville had to start at 3:30 A.M. in order to wade through the sometimes-unbroken snowdrifts to reach the church on time.
In 1881, when the Catholic population of Forestville had grown to about 400, Father Roddan arranged to say Mass in the village in the old Fireman Hall, which stood on the land that is now Twining Street. Since the hall was the social center of the town, there was no place where vestments and other Mass supplies could be stored. Mrs. William Elliott, whose husband was not a Catholic, carried the altar stone, the vestments, and the liturgical books back and forth from her home at the foot of Circle Street to the hall, gratefully offering the task as a thanksgiving for the privilege of hearing Mass every Sunday.
In 1891, Saint Matthew parish was established in Forestville as a mission of Our Lady of Mercy parish in Plainville, whose pastor, Reverend Henry T. Walsh, became pastor of Saint Matthew.
Father Walsh was born in Ansonia, Conn., on June 1, 1855, and attended Holy Cross College and Niagara University where he completed his classical studies and graduated with the Class of 1875. His theological studies were completed at Niagara, and he was ordained into the priesthood in 1878 by Bishop Ryan, D.D., ofBuffa10.
Prior to coming to Saint Matthew Father Walsh was a Curate at a church in Thompsonville, assistant pastor to Reverend Father Rogers in Stamford, and Pastor at Our Lady of Mercy.
On September 20, 1891 — the third Sunday in September — Father Walsh called a meeting of the parishioners and began plans for the erection of a church dedicated to Saint Matthew.
Instant enthusiasm generated instant action. Choice of site was narrowed down to two, the Spelman property on Washington Street and the land known as the Brown property, next to the wooden Asbury Methodist Church on Church Avenue. At a meeting of the parishioners' arguments were offered on both sites. Father Walsh, who had been pressured by parishioners from all sides of the village to build near each section, preferred the Brown property because it was in the geographical center of the village. The latter site won despite the earnest advice of the architect, Mr. J.J. Dwyer of Hartford, who was dubious of the wisdom of building a church in a cranberry bog.
However, when the choice was made, Mr. James Hart Welch, owner of the  land, and son of Elisha Welch, famous clock maker, donated the land, the western part to the parish of Saint Matthew, and the eastern part to the congregation of Saint John Episcopal Church, which also was planning to build a small chapel. In 1887, the Bethesda Swedish congregation had erected a small church on Academy Street, directly behind the Asbury Church. Thus, the four churches formed a rectangle, becoming the religious center of Forestville.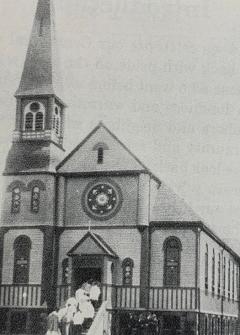 Mr. Welch gave the land with one provision: that he and Mrs. Welch would always have a pew reserved for them at any special service they might wish to attend. The men of the parish volunteered to dig the cellar. Work progressed so rapidly that by January 17, 1892, the cornerstone was laid, the Most Reverend Lawrence McMahon officiating. At that time, Father Walsh announced that the sum of $8,197 has been raised for the building. On Sunday, March 27, 1892, the Catholics of Forestville attended Mass for the first time in the basement of their own church. Three months later, on June 12, 1892, the Most Reverend Bishop Lawrence McMahon formally dedicated the structure to the worship of God.
Little did the parishioners know, but this humble basement was to be their parochial home for the next five years. A recession in 1892 caused severe financial set back throughout the country.
firm contracted for construction of the church, the E.N. Welch Company, was forced to close its business shortly after construction started in 1892 and didn't recover until four years later.
At that point, through the efforts of Father Walsh, the generosity of many Protestant and Catholic friends, and the fidelity of the parishioners, work on the church proper was resumed and the church was completed in 1897.
Other contractors who worked on the church were: woodwork - A. Conty, Bristol; interior woodwork finish - William O. Sullivan, Forestville; altars - McKone Brothers, Hartford; interior decorations Schumacher & Son, Boston; pews - Grand Rapids Furnishing Company; frescoes Pietach & Hinckley, Hartford; and painting - D. J. Benway & Son, Plainville.
The Saint Joseph altar and the altar of the Blessed Virgin were gifts of parishioners.
Five years later, the superstructure was finished, complete with electric lights and steam heat. Dedication of the building took place on July 1, 1897. Mr. John Murphy and Miss Jollier Keating were the first couple married in the upper church.
The first trustees were Patrick Kenney and James F. Holden. Mr. Holden also served as unpaid custodian of the church for years. Following him, Mr. William Dutton continued the work as volunteer caretaker for several years, as did Mr. Robert Kuhar in the 1930's. John Crowley and Harold Daley also served many years as trustees until their deaths.
From 1892, Father Walsh, who also had Farmington as a mission, held Sunday Mass alternately at 9 A.M. and 10:30 A.M. Before he was given a Curate, he drove in his carriage from one town to the other. In later years, one of the Curates would come on the trolley car to hear Confessions on alternate Saturdays, and would say the early Mass on Sundays. One of the assistants was Father Maurice McAuliffe, later Bishop McAuliffe of the Hartford diocese.
Funerals and weddings were held in Saint Matthew Church, but for Baptisms and Confirmations the Forestville parishioners went to Plainville. When First Friday devotions were instituted, many parishioners went to Plainville for Mass at 7 A.M. In 1909, Father Walsh bought the eastern half of the original Brown property from the St. John congregation.
In October 1918, two events occurred which seemed to have almost mystical coincidence: Saint Matthew was made an independent parish, and Father Walsh died after a pastorate of 27 years. How typical of him to have persevered in this life until his work was done.
The pastorate was then assumed by the Reverend William P. Laflin of Sacred Heart Church in New Haven. Until he could find a suitable residence, Father Laflin lived at the rectory in Plainville; later, he rented the Wooster homestead at the corner of Pleasant Avenue and Fair Street.
Realizing the need for a rectory, the parishioners met on the third Sunday of December 1919, under the chairmanship of Matthew T. McCormick with approximately 150 presents. A campaign was started to raise $5,000. After a week's canvass of the parish, $8,000 was pledged to be paid by April 1, 1920. In May of that year the rectory was started next to the church; it was finished and occupied by November 11, 1920. Father Laflin served as pastor for ten years, winning the esteem of Catholics and non-Catholics alike. On October 1, 1928, Father Laflin was assigned to the pastorate of Saint Joseph Church in Bristol.
Father Laflin was succeeded by the Reverend James T. McDonald, who was transferred from Saint Bernard Church in Sharon, Conn. In his quiet, unassuming way, Father McDonald continued the work of Father Laflin, particularly among the young people of high- school age. He remodeled the front of the church and renovated the basement, making it available for plays and entertainments for the younger members, and for meetings of the various parish societies. On Sunday morning, February 5, 1939, the congregation assembled for the first Mass was stunned by the news that Father McDonald had died suddenly during the coincidence: Saint Matthew was made an independent parish, and Father Walsh died after a pastorate of 27 years. How typical of him to have persevered in this life until his work was done.
The pastorate was then assumed by the Reverend William P. Laflin of Sacred Heart Church in New Haven. Until he could find a suitable resident, Father Laflin lived at the rectory in Plainville; later, he rented the Wooster homestead at the corner of Pleasant Avenue and Fair Street.
Realizing the need for a rectory, the parishioners met on the third Sunday of December 1919, under the chairmanship of Matthew T. McCormick with approximately 150 presents. A campaign was started to raise $5,00. After a week's canvass of the parish, $8,000 was pledge to be paid by April 1, 1920. In May of that year the rectory was started next to the church; it was finished and occupied by November 11, 1920. Father Laflin served as pastor for ten years, winning the esteem of Catholics and non-Catholics alike. On October 1, 1928, Father Laflin was assigned to the pastorate of Saint Joseph Church in Bristol.
Father Laflin was succeeded by the Reverend James T. McDonald, who was transferred from Saint Bernard Church in Sharon, CT. In his quiet, unassuming way, Father McDonald continued the work of Father Laflin, particularly among the young people of high-school age. He remodeled the basement, making it available for plays and entertainments for the younger members, and for meetings of the various parish societies. On Sunday morning, February 5, 1939, the congregation assembled for the first Mass was stunned by the news that Father McDonald had died suddenly during the night. His funeral took place from Saint Matthew Church on Tuesday, February 7, 1939.
On March 17, 1939, the Reverend James M. Coughlin, pastor of Saint George Church, Guilford, was appoint pastor of Saint Matthew. Father Coughlin began at once to plan for the Golden Jubilee to be held in 1941. In January 1941 Father Coughlin sought permission from the Most Reverend Bishop for the redecoration and renovation of the church.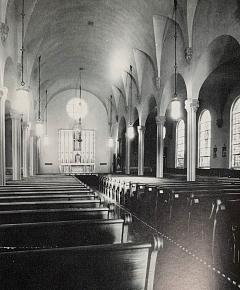 As was appropriate, the third Sunday in September 1941 saw the rededication of Saint Matthew Church with Bishop Maurice McAuliffe presiding. He had once been a Curate in Our Lady of Mercy Church when Forestville was a mission of Plainville. Priests who participated in the ceremony who had formerly been connected with Saint Matthew Parish included Father Laflin; Fathers Kennedy and Kilcoyne, former curates; and Fathers Kaicher and O'Hara from the parish.
During the Jubilee year, Judge William J. Malone, a former parishioner, gave a Hammond organ to the church. Father Coughlin revived the Guild ofthe Blessed Sacrament, and a Jubilee picnic was held.
In 1942, the Reverend James Ryan from the parish celebrated his first Mass here, and the Miraculous Medal Novena was inaugurated. Three hundred men and women from the parish served in the armed services during World War Il with two fatalities, Raymond James Carroll and Robert William Hackbarth.
After fifty years, the parish had grown enough to warrant two resident priests. The Reverend John F. Cavanaugh came as Father Coughlin's assistant. In 1943, the parish purchased land and a house on Academy Street in preparation for the eventual coming of resident nuns. For some years, the Trinitarian nuns from Southington had taken the parish census and had taught catechism. Later, three Sisters of Charity conducted Sunday School classes in religion and held summer sessions. In July 1943, three resident Sisters of Christian Charity arrived to handle religious instruction in the parish. Father Coughlin celebrated his Silver Jubilee in the parish.
By 1950, it was necessary to have five Masses on Sunday to accommodate the growing number of Catholics. As a possible site for a new church, Father Coughlin purchased land on Louisiana Avenue in an area where the town was expanding. The idea of building there was abandoned, however, when the prospect loomed that the Bishop might divide the parish and establish a new one in the northern section of the town. Growing needs of the parish called for two assistant pastors, the Reverend William Kernan and the Reverend Francis T. McGlynn.
Father Coughlin's annual report of January 1952, noted "a vigorous spiritual life and a parish free from debt, with a substantial surplus in reserve". Father Coughlin died after a long illness in September 1953.
Father Raymond Mulcahy from Montowese succeeded Father Coughlin. The need for a larger church had been apparent for some time, but a fiat from Archbishop O'Brien decreed that a parish school must come first. Accordingly, when word came that the Sarah Reynolds School was to be closed, Father Mulcahy approached the City of Bristol with an offer to buy the building. With the public-school enrollment steadily increasing at that time, the Board of Education decided to keep the property for offices.
In the meantime, Saint John Episcopal Church had built a new edifice on Stafford Avenue and was no longer using the small chapel on Academy Street. Father Mulcahy bought it for use as a temporary school, but fire officials refused to permit it to be used for this purpose. For a few years, he rented the Green Hills School for a children's Mass and for Sunday School.
The next step was to purchase the Anderson property across Church Avenue from the rectory, a part of the original holdings from which James Hart Welch had so generously donated in 1891. An eight-classroom school was designed with a multi-purpose wing to be used as an assembly hall, gymnasium and chapel. As there could be no teaching nuns without a convent, the spacious building which now houses the nuns was planned. With costs climbing steadily, the building was not completed for eight years. On October 1, 1961, Bishop Hackett dedicated the new Saint Matthew School. Four sisters, Sister Servants of the Immaculate Heart of Mary, came to staff it. Year by year, another grade opened until eight grades became functional.
During this time, four young men of the parish entered the priesthood. They were Reverend David Lewandowski, who said his first Mass in his home church in May 1955; Reverend Robert Kevin Anderson, OCSO, who was ordained and celebrated his first mass in Spencer Abbey, Spencer, Massachusetts; Reverend Henry Beninati, M.M., ordained at Maryknoll, New York, for the foreign missions; and Reverend Gerald Daley, who celebrated his first Mass in Saint Matthew in 1964.
Four young ladies from the parish entered religious life in this decade. Miss Joyce Green entered the Sisters of Saint Joseph in 1958 and Miss Mildred Gebrian joined the Missionary Servants of the Sacred Heart. Miss Margaret Wolff became a member of Sisters, Servants of the Holy Spirit. Miss Therese Critchley was received into the Order of Saint Benedict at the Abbey of Regina Laudis in Bethlehem, Connecticut.
          In 1957, the parish was divided, the northern half was established as Saint Gregory the Great thus reducing the size of Saint Matthew parish. Shortly after the school and convent were completed, Father Mulcahy was transferred to the Church of the Assumption in Ansonia, Connecticut in 1965. Father Thomas Glynn was then appointed pastor until 1966. Father Patrick Speer served from 1966 through 1968. Father Philip Blaney then became pastor and served until his retirement in 1988.
As the celebration of our 85th anniversary came to a close in 1976, we began to move towards our centennial year. Our parish continued to grow and has become one of the largest in the Archdiocese of Hartford, with more than three thousand active families.
As a result of this rapid growth, the church building could no longer meet the needs of the burgeoning Catholic population. By November 1984 the parish numbered 2,800 families and it became imperative to either enlarge the church with its seating capacity of 380 or replace it with a new, modern structure.
The choice was made to build a new edifice because an exhaustive study showed that expansion of the old church would not only be unwieldy and architecturally distorted, but would cost $1.5 million. That was $300,000 more than the estimated cost of building a new church.
Upon receipt of approval from Archbishop Whealon to proceed, the parish undertook the $1.2 million project using $200,000 in seed money which had been accumulated in savings accounts.
Under the leadership of Father Blaney, with Charles DeMaria and Ms. Rita LaRoche as co-chairpersons, an appeal was undertaken for funds to build a new church on the Sarah Reynolds School property.
                                  A building committee was formed in the summer of 1984. A first meeting was held to review a program for the new church on August 15, 1984. The decision was made that the new church would be Spectacular, Strong and Prayerful. Present at that first meeting were Father Daley, co-chairman of the building committee Dino Iorli and Matthew Shine; and Peter R. Kosinski – Kosinski Associates of New Haven.
It was decided to have a Church construction fund drive with a goal of $650,000 to be held October 1 to December 8, 1984. Many opportunities to make memorial donations were offered and the parishioners were very eager to help and quickly responded. Plaques inscribed with the items selected and those being honored or commemorated are located in the narthex of the new church.
Ground was broken for the new church on April 13, 1986 on property that had been acquired in the late 1970's. Kosinski Associates were selected as both architect and construction manager.
Many artistic and historical components from the old church were incorporated into the new church. The stained-glass windows were placed throughout the building. The Stations of the Cross were refurbished and placed in the chapel. The Last Supper Scene from the old church altar holds a prominent place in the narthex. Honor Rolls from the many conflicts since 1891 also have been installed.
A Strong, United Church
The guidance provided by our Priests, Deacons, and Religious, along with many active parishioners has resulted in our becoming a strong and united church family.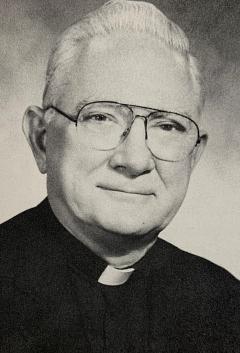 With Father Blaney as Pastor, we had a number of Parochial Vicars. In August of 1980, Father Robert O'Grady left us after serving Saint Matthew for nine years. In 1982, Father Thomas Sas left after serving for six years. Father John Golas replaced Father O'Grady in 1981 and remained until 1987. Father Ivan Ferguson came to Saint Matthew in 1982 and remained until 1985.
In January 1984, Msgr. Joseph Farrell left us after fifteen years of inspirational service. He not only helped us on weekends, but became a beloved friend with his wit and homilies. Msgr. Farrell died January 29, 1990 at the age of 85.
Father Arthur Audet replaced Father Ferguson in March 1985, and remained until January 1991, when he left to become co-pastor of Assumption Church in Manchester with Father Golas.
After serving as our Pastor for twenty years, Father Blaney officially retired on September 1, 1988. Many things can be
 attributed to Father Blaney during his pastorate. One of the biggest and most successful  tasks was one of his last as pastor — the building of our new church.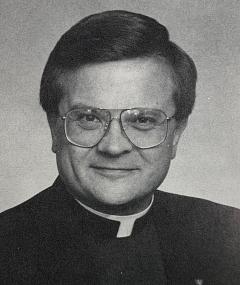 After Father Blaney illness and retirement, Father Edmond O'Brien was appointed temporary administrator of the parish until a new pastor was appointed by Archbishop Whealon. Father Robert J. Lysz (pronounced "Lish") was then appointed as the new pastor on October 13, 1988.
Father Stephen Krugel and Father George Couturier served as Parochial Vicars for one year each.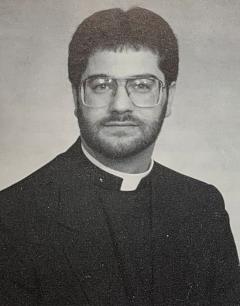 In January 1989, the Rev. Mr. Daniel Draper was assigned as a Transitional Deacon. He was ordained to the Priesthood in September 1989, and celebrated his first Mass at Saint Matthew.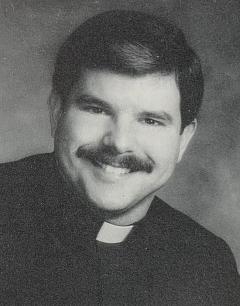 Father Kevin Forsyth became Paro
chial Vicar in October 1990, and Father Draper returned to Saint Matthew in January 1991, as a Parochial Vicar. Together they have brought many talents which are contributing to the spiritual growth of Saint Matthew Parish.
The diaconate was restored to a permanent ministry in the church in 1967 by Pope Paul VI in accord with the Second Vatican Council. Deacons are subordinate to bishops and priests and are ordained to a ministry of service. They administer Baptism, dispense the Holy Eucharist, witness and bless marriages, proclaim the Gospel and officiate at funerals and burials.
Robert Jones was the first to be ordained a permanent Deacon for our Parish and served until his death. Barry Midwood was ordained a permanent Deacon in October 1984, and served our parish until October 1988 when he moved to another parish. We are fortunate to have several permanent Deacons serving Saint Matthew Parish. They are John Pahl, ordained in December 1981; Richard O'Day ordained in June 1986, and Hector (Bob) Huard ordained in June 1987.
Father Lysz faced many new challenges as the youngest pastor of perhaps the largest parish in the archdiocese. Father Blaney had recommended that a younger priest be assigned as pastor due to the work load and financial burdens which lay ahead. He was, as usual, right on target.
During Father Lysz's first three years, we have come to realize a strong sense of community, a sound financial environment, and an atmosphere of spiritual growth.
The debt incurred by the building of the church had reached nearly $750,000. The rectory, convent and school faced major repairs. The subsidy to the school had risen dramatically over the years and as  one might expect, in light of the recent construction of the new church, savings were nominal.
The task of repairing, re-roofing and updating the building as well as reducing the debt was formidable, but there was a positive side to all of this. Saint Matthew Parish had grown from a small country village church to a large, multifaceted
jewel. The love that the parishioners showed for their parish was reflected in their dedication and generosity.
Soon after Father Lysz arrived a total census of the parish was taken. The census began with those parishioners who attended Mass on a weekly basis. The information gathered was computerized and stored for easy reference and access. It was discovered that nearly 3,000 families attended regularly. Analysis of the figures showed that there were more than 5,300 adults and 2,500 children under the age of 18. As the census continues, appproximately 10 new families register each week. The parish was growing rapidly and the demand for services was increasing.
Working with the Parish Council and the Finance Committee, it was determined that in order to meet and/or reduce the parish debt, repair the facilities and plan for the future, another major fund drive would have to take place. Nine months after his arrival, Father Lysz began a million-dollar drive to accomplish these goals. It was an act of faith considering that the original fund drive to build the church had just been completed a year earlier. History repeated itself as the parishioners responded generously to meet the goal.
Over the last three years the parish has managed to reduce the debt consider
ably. The school has been remodeled by the addition of new office space, a Religious Education Office, Health Room, Library and faculty room (all air conditioned). The roof on the classroom section of the school has been replaced and the first-grade classroom repaired (it had to be shut down due to water damage). New lighting was installed in the hallways.
The gymnasium was given a new and more efficient heating system and a new floor was installed. The kitchen was remodeled and new appliances were installed.
The convent roof was repaired, the chapel remodeled, the entire inside repainted, the plumbing repaired and new furnishings provided for the sisters. The rectory roof was replaced, the foundation reinforced and the offices and living space remodeled.
Around the church building new lighting was installed and the drainage problems solved. Landscaping was added to beautify the grounds. Inside the church stained glass windows were installed (due to a generous bequest by the late Ann Crowley) and the lighting and sound system were improved. Along with all this activity the parish debt has been reduced by half. Our financial goal for the near future is to retire this mortgage.
Even though we are proud of the accomplishments over the years, we know that Saint Matthew Parish is more than buildings and debts. The true wealth of our parish is our people. We continue to grow as a Parish Family and as the People of God. The sacraments are celebrated with devotion and care. The parish has an active Parish Council, a Guild of the Blessed Sacrament, a Men's Retreat League, a Catholic Youth Organization for our teens and a well-organized and solid Religious Education Program for our younger parishioners.
Small Christian Community groups and The Rite of Christian Initiation process form part of our adult education program. We have a Singles Group, Mothers and Others Group, Widows and Widowers Social Club and a Bereavement Support Group for those who need our love while they work through the death of a loved one.
We have an active Home and School Association who raise needed funds to keep our parish school afloat in these difficult economic times. In addition to these groups, we sponsor Scouting for boys and girls, provide meeting space for Alcoholics Anonymous, Adult Children of Alcoholics, Overeaters Anonymous and other self-help groups. Our parish collects food and clothing for those among us who are less fortunate. We supply food to soup kitchens in the City of Bristol; donate to the Homeless Shelter, a mission in Haiti and respond generously when needs arise.
We recognize our membership is the Body of Christ which extends beyond the territorial limits of Saint Matthew Parish. We are a parish that practices what we believe; when we do something for someone, we are doing it for the Lord Himself. Individually and collectively we are a vibrant and loving community of God's faithful.
The Sister Servants of the Immaculate Heart of Mary still teach in our school along with wonderful lay teachers. This faculty and administration continue our tradition of imparting Catholic values while instructing the minds of our children.
Our Religious Education Program is thriving. Through weekly classes and instruction, we try to teach the faith that has been passed on to us to the next generation. At present we use Green Hills Elementary School on Sunday mornings for grades one through six. We have a teaching staff of 17 under the direction of Sister Jane McDonnell. Our seventh through twelfth grades meet in private homes with their catechist. This program is under the direction of Chris O'Dell and Nancy Larivee. There are 148 students. In addition to these instructions, we sponsor a Catholic Youth Organization and Confirmation Program for our high school parishioners.
The last one hundred years can be summed up by stating that we have preserved the past, grown every day and prepared for the future.
Our future looks bright because we continue to dedicate ourselves to the Will of God and the leadership of His Church. We are loyal sons and daughters, caught up in the love of God and striving to implement that love in our daily lives as a parish. We look forward to the future with courage and hope.
Our dedicated and beloved pastor, the Reverend Robert Lysz, is a man with deep spiritual conviction, but the burdens and responsibilities of leading a flock numbering 3,300 families do not dampen an irrepressible spark of wit and merriment. He is admired and respected as an administrator who assumed a burden of debt totaling $700,000 when he came to Saint Matthew and though he has had remarkable success in reducing that obligation, which bespeaks a serious, businesslike approach to administrative duties, he can light-heartedly toss off an evaluation of himself as a juggler of numerous tin plates who must keep them constantly twirling lest they collapse.
Father Lysz admits that there is no such thing as a "typical day' for him as each dawn brings another set of responsibilities and duties. One constant, however, is that he is out of bed usually by 5:30 A.M. and is kept busy until 11 P.M.
His religious and secular responsibilities are daunting and he gives thanks to an efficient secretary who helps him sort through and perform his many tasks. Economic conditions have aggravated social problems in the area and social outreach to soup kitchens in Bristol and providing aid for the needy and homeless has added to the usual parochial efforts. And always on the horizon is the goal of retiring that burden of debt in a period of recession. But Father Lysz radiates optimism while relentlessly keeping the faith.
He was born November 8, 1948 in New Castle, in the western part of Pennsylvania, not too far distant from Pittsburgh, a son of Sally and the late William Lysz. The family came east to Connecticut in the early 1960's when his father changed jobs. His education, which had begun in New Castle at Saints Philip and James Elementary School, continued at junior and senior high school in North Haven, Conn.
He began his seminary training at Saint Thomas Seminary in Bloomfield, Conn., here he earned an A.A. Degree. He earned his B. A. degree at Saint Mary Seminary College, Catonsville, Md., and his Master of Divinity Degree at Saint Mary Seminary and University in Baltimore. He served his internship as a prefect at Saint Thomas Seminary and Saint Gregory Church, Bristol, Conn., and Saint Rose of Lima Church, East Hartford.
He was ordained as a priest on May 24, 1975 at Saint Joseph Cathedral, Hartford, by the late Most Rev. John F. Whealon, the archbishop of Hartford.
Before coming to Saint Matthew in 1988, he was assigned to Saint Francis of Assisi Church, New Britain, Conn. 1975—76; Holy Angels Church, South Meriden, Conn., 1976—1982; Saint Mary Church, Derby, Conn., 1982—86; and Saint Gregory Church, Bristol, Conn., 1986-1988.
Father Lysz has established a tone which is reflected by those who assist him which makes Saint Matthew a warm, dignified house of worship which continues to attract an ever-growing family of worshipers.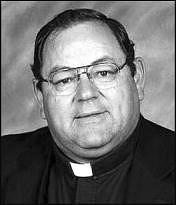 Fr. Brian Monnerat took over after the Rev. Robert Lysz was murdered on the church's altar in June 1999 by a deranged man. When Fr. Brian Monnerrat was appointed to come to St. Matthew Church, Archbishop Blair knew the parish was heartbroken over Father Lysz death. Because of Father Brian abilities to communicate and empathize with people he was sent to heal the parish.
Father Monnerat was ordained on February 13, 1988 at the Cathedral of Saint Joseph by the Most Reverend John F. Whealon, Archbishop of Hartford. He was assigned to the Good Shepherd Church in Seymour. In 1990, Father Monnerat became Co-Pastor of Saint Bridget Church in Cheshire and in 1995 was named Pastor of Saint Bernard Church in Enfield. In 1999, Father Brian was appointed Pastor of Saint Matthew Church in the Forestville section of Bristol. Father Monnerat also served as Director of the Mission Office for the Archdiocese of Hartford, that supports Catholic mission work. Fr. Monnerat, who had been pastor at St. Matthew Church for 11 years, died July 14 of a heart attack while on vacation in Bermuda.
It was the second time that the parishioners of St. Matthew have endured a wrenching loss of their parish priest.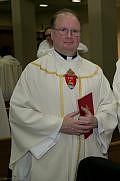 With 3,250 families, St. Matthew was one of the largest parishes in the Hartford Archdiocese. Msgr. Ginty's extensive experience as a priest, including high office in the archdiocese, made Msgr. Ginty well-suited to lead St. Matthew. Msgr. Ginty has been a priest for 25 years and has spent his entire career in Connecticut. His first church was St. Thomas in Southington, where he served for four years. From there, he moved to St. Ann in Avon. Then he became secretary to the archbishop, serving 11 years under Archbishop Daniel Cronin and for a year under Mansell. During that time, he also served as chancellor of the archdiocese, a job that entailed functioning as the archbishop's chief of staff.  Msgr. Ginty was St. Matthew's leader until July 2018 when he was transfer to be the Rector of St. Joseph's Cathedral.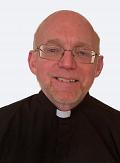 Following Msgr. Ginty departure, St. Matthew received with open hearts our current Pastor, Fr. John Dietrich. Fr. Dietrich came from Mt. St. Mary's Seminary where he served for 17 years as a Director of Spiritual Formation, Mount St. Mary's Seminary, Emmitsburg, MD (2001-2018).